Scentsy Netherlands
We are so thrilled to announce we are adding a new country to our amazing Scentsy family. We're excited to bring the Netherlands into the picture and are so excited for the opportunities it will bring.
If you're interested in joining the Scentsy Netherlands team just bookmark this page. If you know anyone that is a home fragrance nut then please share this page with them, we'd love to meet them and they'll certainly thank you for it.
When Is Scentsy Arriving In The Netherlands?
We've officially set a date for Netherlands to join the Scentsy family. New Consultants in the Netherlands will be able to join beginning 8 a.m. PT Oct. 16. And we couldn't be more excited!
Can I start promoting my Scentsy business in the Netherlands on social media?
Yes Go for it!
How do I sell products to or sponsor someone the Netherlands?
To sell and/or sponsor outside of your home country, you must agree to a Cross-Border Agreement.
There are two types of Cross-Border Agreements: In-Region and Out-of-Region. The In-Region Cross
Border Agreement allows Consultants to sell and sponsor in other countries within their home region.
The Out-of-Region Cross-Border Agreement allows Consultants to sponsor (but not sell) outside their
home region. There is a fee, in addition to monthly Personal Website (PWS) fees, to support this service.
To add the Netherlands, go to the Account tab of your Workstation and scroll down to the
"International" section. See the Cross-Border Sponsoring Outside Your Region training document on the
Business References tab of the Training Center for detailed instructions.
How can new Consultants enroll?
All new Consultants must join under a current Scentsy Consultant on the Consultant's Personal Website
(PWS) — click Join to get started.
What Is Scentsy's Story?
Scentsy began in 2003 with the powerfully simple idea of aromatic candles, decorative warmers with wax melted by the heat of a light bulb instead of a flame. Colette Gunnell and Kara Egan, Scentsy's founders, shared enthusiasm for the idea. From this idea they created a partnership and Scentsy was born.
Enter Orville Thompson, who first encountered Scentsy at a home show in Salt Lake City, Utah, in 2004. When Orville saw the candles made by this tiny Utah company, he immediately knew they had huge potential.
Sensing there was something special about the wick less candle concept, he brought a handful of testers home to his wife, Heidi, and her mother and sister. After introducing them to the testers, he left them alone. When he returned an hour later, the women were still smelling the testers, laughing and sharing memories.
Orville was intrigued by how smelling different scents brought powerful emotions and memories to the surface, and how natural it was to share those feelings and memories with others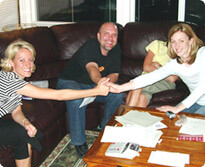 Within months, Orville and Heidi purchased Scentsy from Kara and Colette, brining the company to Idaho where its first home was literally a metal box. Orville had a 40-foot ocean-shipping container on his small sheep farm, which housed Scentsy's manufacturing and shipping operations for several months.
Orville and Heidi decided to market and sell Scentsy products directly to consumers through home parties. On July 1, 2004, Scentsy signed its first consultant and officially became a direct selling "Party Plan" company.
In 2009 the Direct Selling Association awarded Scentsy its highest honor available to young companies; the Rising Star Award, for its growth and commitment to ethical business practices. 
In October 2009, Scentsy looked beyond its national sales model and opened the doors to selling and recruiting in Canada.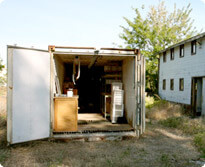 2010 brought new honors for the company: Scentsy was included in the Direct Selling News Global 100 list of top direct selling companies, as well as being named the number one consumer products company on the Inc. 500 list of the fastest-growing privately held companies in the United States.
As Scentsy worked to accommodate its continued growth at home, the company also began looking beyond its continental borders. In April 2011, Scentsy expanded to Europe with a successful launch in both the UK and Germany; by the end of the year, the company had also launched in Ireland. Throughout the year, Scentsy was recognized in a variety of ways, from Heidi being named the Idaho Business Review Woman of the Year to again being included in the Inc. 500 list — ranked this time among the top 100.
In March 2012, alongside the release of the new Scentsy Spring/Summer 2012 Catalog, Scentsy launched a new product line: Layers by Scentsy, a personal and laundry care line that would allow Consultants and Customers to extend the Scentsy fragrance experience from their skin to their clothes.
In September 2012, Scentsy launched Sincerely Scent, a line of scented greeting cards that are completely customizable — even down to the Scentsy Favorites fragrance inside!
But that's not all. In May 2012, Scentsy went one step further with the release of a second brand, Velata, which brings family and friends together through fun, delicious food. 

With the launch of Velata, Scentsy needed a new identity, one that could act as an umbrella over its multiple brands: The Scentsy brand itself became Scentsy Fragrance, and the concept of the Scentsy Family was born.
In August 2012, Scentsy Family launched another brand, Grace Adele, which helps women create their perfect style in just five easy steps.
In the fall of 2013, the Scentsy Family continued to grow, launching in Mexico, Australia, and Poland!
Now celebrating its 10th anniversary, Scentsy is a recognized industry-leading company.  What began in 2003 as a simple idea inspired by ordinary women has since become a thriving international business. Orville and Heidi — along with thousands of Scentsy Consultants and customers — have created something extraordinary that touches thousands of lives each day in profound ways. Orville says it best: "Through the power of our fragrances, the simplicity of our product line, and a deep sense of family at home and at work, we find hope, vision, and an appetite for working hard as a team that binds us together. With Scentsy, we have each found something that speaks to and encourages the best in ourselves and each other."
The Scentsy Mission
To bring Value to the world by providing an industry-leading, family friendly business opportunity selling creative, artistic, high-quality products that Warm the Heart, Enliven the Senses and Inspire the Soul.
Simplicity, Authenticity, Value ~ The Scentsy Core Values
You notice something different about Scentsy the first time you see and smell it ~ it is simple! An elegant ceramic warmer, a highly fragrance scent bar and with a simple flick of the switch, your room is filled with one of Scentsy's unique fragrances.
The basis for Scentsy Family's business philosophy comes from a quote by Albert Einstein — a quote that so inspired Orville Thompson as a young man he kept it posted on his bedroom wall: "Try not to become a man of success. Rather, become a man of value. A successful man takes out of life more than he puts in. A man of value will give more than he receives."
When they launched Scentsy, the Thompsons determined from the beginning to build their business around core values of simplicity, authenticity, and generosity. Those key values extend to everything Scentsy Family does.
Learn more about Joining this fabulous company here!